It is a stunning day here on the west coast, but this is little consolation to the families of the 46 people who died over the weekend from covid, all but 8 in long term care facilities .
Ron Hughes is someone you need to follow on twitter if you use that venue. He has been the loudest, longest and most passionate advocate for seniors in care in BC. He and Salim Jiwa ( https://twitter.com/realreporter) have been relentless in pushing for transparency, accountability and changes that many in the media have not even pursued, like separating private movie industry testing from public testing, so we can see the true positivity rate in health regions.
I've written several times on the failure to adapt long term care home protocals to include frequent testing, and it's remarkable that now, even under Doug Ford in Ontario, that change has happened. This is a link to their new testing protocal : https://www.ontario.ca/page/covid-19-long-term-care-home-surveillance-testing
From that link: "
Effective November 23, 2020, I hereby issue the following directive with respect to every long-term care home:
Staff, students and volunteersSubject to the exception in section 4 of this directive, every licensee of a long-term care home shall ensure that Staff, Students and Volunteers working in the home regularly take a COVID-19 test:

green and yellow levels. This shall include one COVID-19 test every two weeks for long-term care homes located in public health unit regions in green-prevent or yellow-protect levels of the COVID-19 response framework: keeping ontario safe and open issued November 3, 2020 or as amended. The time period between testing should be as close to 14 days as can practically be achieved, unless testing is conducted more frequently.
orange, red and grey levels. This shall include a COVID-19 test every week for long-term care homes in public health unit regions in orange-restrict, red-control or grey-lockdown levels of the COVID-19 response framework: keeping ontario safe and open issued November 3, 2020 or as amended. The time period between testing should be as close to 7 days as can practically be achieved, unless testing is conducted more frequently."
I can't understand why BC has been so slow to adapt on so many issues. ( oh wait…we spent over a month in caretaker mode during an election the ndp was preparing for since June..nevermind) Yesterday's admission that they didn't anticipate needing as many contact tracers as they do was concerning. Haven't they seen what happened elsewhere?
Now I scanned through Martyn Brown's latest and found a segment many might miss simply because it takes to long to read :
Brava Martyn. Even in yesterdays presser, when presented with the opportunity to ask his two allotted questions, Keith Baldrey declined the use of his second,leaving so many questions unasked. These call in conferences are so tightly controlled through screening, that many never get a chance to ask anything at all. Yesterday one reporter used his second question to ask one for his colleague Shannon Patterson who seems to get passed by ( she asks very hard questions). I can't help but wonder if he now will be mysteriously passed over in subsequent call ins.
OLD GROWTH LOGGING CONTINUES AT A BREAKNECK PACE
Next up, this video taken by the good people at the Ancient Forest Alliance, shows what kind of old growth logging is happening incessantly on Vancouver Island. Some taken are so big, one log fills the width of a logging truck. Katrine Conroy will have her hands full on this. Check out Ancient Forest Alliance at https://www.ancientforestalliance.org/
SITE C
Next up, the Site C debacle is still going strong, and no sign of the long awaited Milburn Review. A hint that Horgan is likely to continue pouring $$ into this sinking pit was found in Minister Bruce Ralstons mandate letter:
Meanwhile, it is full steam ahead up on the job site, but with all the reservoirs on the river upstream quite full, its putting pressure on the ground work right at Site C, and the diversion tunnels are now below water level. This, is potentially a problem as Lindsay Brown points out in a series of tweets I've unrolled and copied below for you ( link to original tweets accredited at the end) :
"More trouble at #SiteC looming? Sources say the river was running quite high yesterday & aerials over the diversion tunnels today show there is zero freeboard (tunnel entrances now submerged). Source: "Hydro is playing a very risky game I believe"… 1/x #bcpoli
..Source: "Hydro is playing a very risky game I believe, but the reservoir levels are full [behind the two dams upstream of #SiteC, WAC Bennett & Peace Canyone] so they have to release as much water they can. I see comments from Hydro that indicate possible spills…" 2/x
.."Fortunately for BC Hydro it hasn't been cold so far & there's little ice build-up around the inlet portal. This is the situation McCullough warned about." Recall: Robert McCullough is the internat'l expert who warned Horgan not to proceed with #SiteC…
..If you look at that updated report from McCullough (he's the guy who exposed the Enron scandal by the way), rushing the river diversion & doing it after the drop dead date in the fall (which BC Hydro did – it diverted the river, or began to, after the safe date) is risky…
Source says: "The risk is the cofferdam height is not adequate to hold back a river that won't fit through the diversion tunnels." (Cofferdams are smaller dams that block the river & divert it into tunnels, moving it away from the eventual dam site across the river)…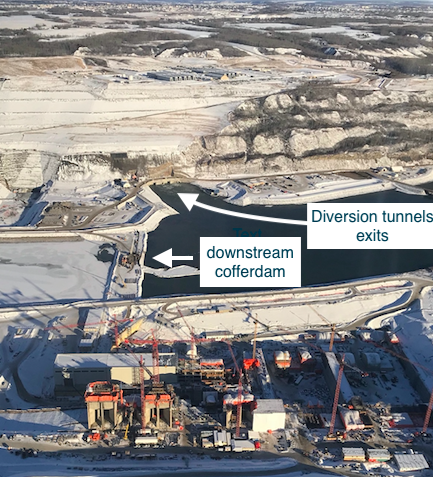 Engineer friend says: "We can see turbulence now from the outlet portals…white water. [Turbulence is a sign of resistance in tunnels.] The inlets (tunnel entrances) are submerged now, so Hydro now needs higher inlet head for more flow, but there isn't much more available."
We also know the tunnels are narrower than originally intended; thick concrete liners had to be added after the tunnels were crumbling. Due to Hydro's opacity we don't have exact info but they are tighter than originally planned. Can they handle the mighty Peace?
In case the above was not clear, a river flowing freely between banks meets much less resistance than when it is forced through tunnels. To overcome the resistance, unless you pump it thru you must raise the cofferdam height to create enough of a head to push the water thru…
To conclude, rushing the river diversion is risky & seeing the diversion tunnels inundated like this when the river is meant to be low is concerning. The main risk would be overrunning the cofferdam. "A risky game' seems apt. If you have Qs for source or engineer, pls ask.
PS here are before and after views of the entrance portals to the two #SiteC river diversion tunnels – October vs today, Nov 30, submerged. (Plus an annotated photo showing the setup of the site, when the upstream cofferdam was getting started):
This helps to explain why seeing that turbulence at the exit portals of the #SiteC river diversion tunnels is a problem – it's a sign of resistance in the tunnels which can bode ill for the tunnels themselves ntm the upstream cofferdam. https://twitter.com/daveunger3/status/1333539051001892864 #SiteC #StopSiteC
(Note: Dave Unger @daveunger3 is a former senior construction manager for BC Hydro in the Peace Region and is pretty knowledgeable on these matters.)
Originally tweeted by Lindsay Brown (@Lidsville) on November 30, 2020 7:07 pm.
It is so good Lindsay is able to keep this in the public eye still online, because these are all issues being over taken by attention to Covid.
Sigh…but that's not all. They still burn the debris and ' un-merchantable ' timber left behind from reservoir clearing ( another clue this damn dam ain't stopping?)
Cullen Commission hears stunning transcript of Kash Heed Conversation about RCMP & Rich Coleman
Get your oven mitts because this one is so hot you can't touch it without protection….
From that report above:
" In the transcribed records released by Cullen, Heed and Pinnock discuss the circumstances surrounding the disbanding of Pinnock's illegal gaming unit in 2009, and what they perceived as political interference by B.C.'s government in that decision as well as the RCMP's provincial mandate. 
Heed also suggested in the transcripts that interference in the RCMP's policing has persisted in B.C., and slammed the independent report on casino money-laundering filed in 2018 by former B.C. RCMP leader Peter German. And German was one of the former RCMP officers, the transcripts suggest, that Heed believed responsible for disbanding Pinnock's unit. "
~snip~
""And then Coleman — Coleman was all part of it. It's their network that caused this tsunami to take place in the casinos."
~snip~
"The two men also discussed administration of casinos and the real estate business in B.C., and what Heed saw as continuity on those files involving Coleman and his deputy minister at the time, Lori Wanamaker."
Whew, some wild stuff coming out and interesting to see Lori Wanamakers name so often in this commission, because she was just appointed Deputy minister to the Premier, John Horgan. This is an interesting appointment, but probably a good one for Horgan, because she knows an awful lot about what went wrong and when it went wrong, on the latest site C sinking foundation debacle: https://thenarwhal.ca/site-c-dam-geotechnical-problems-bc-government-foi-docs/
That's all for today folks. Get outside, get some sun and fresh air, and make sure you are getting enough vitamin D.